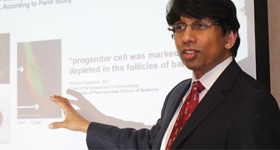 Trichostem is a breakthrough non-surgical hair loss treatment by renowned multispecialty cosmetic and reconstructive surgeon Dr. Amiya Prasad. Trichostem is Dr. Prasad's own formulation of three clinically proven hair loss treatments: wound healing material extracellular matrix (ECM) made by ACell, platelet-rich plasma (PRP) taken from the patient's own blood, Vitamin D, and other factors.
Trichostem uses regenerative stem cell therapy to reverse the hair thinning process to thicken hair, and stop progressive hair loss – effects not possible by traditional hair transplants. Trichostem is a onetime, outpatient treatment. While effects are most dramatic a year after treatment, visible effects can be seen in 2-3 weeks. Trichostem has proven effective in 99% of men, and 70% of women who used the treatment.
Dr. Prasad realized its hair regenerative effect when he used extracellular matrix to aid healing in the hair transplant donor area, and discovered that native hair that wasn't transplanted grew thicker. Dr. Prasad's other extensive experience with extracellular matrix comes from his cosmetic and reconstructive surgery practice, where he uses ECM in procedures such as facelifts, ear reconstruction, scar minimizing, body procedures, and other surgical procedures.