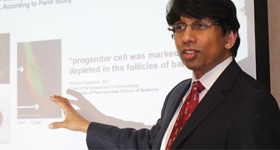 Trichostem is a breakthrough non-surgical hair loss treatment by renowned multispecialty cosmetic and reconstructive surgeon Dr. Amiya Prasad. Drawn from his first hand experience with hundreds of patients from around the world for over 7 years, Trichostem is Dr. Prasad's own system combining a wound healing material called extracellular matrix (ECM) made by ACell, platelet-rich plasma (PRP) , Vitamin D, and other factors to treat hair loss in men and women.
Dr. Prasad's Trichostem System involves the application of regenerative stem cell technology to help  manage progressive hair loss. Progression of hair loss is not addressed by traditional hair transplants. Trichostem Hair Regeneration is an outpatient treatment. Benefits can be appreciated as early as three months after treatment. Men and women with genetic pattern hair loss can potentially benefit from this significant advancement.
Dr. Prasad observed the hair regenerative effect when using extracellular matrix (ECM) for the healing process of surgical hair transplant. He discovered that native hair that wasn't transplanted grew thicker. In addition, Dr. Prasad's extensive experience with extracellular matrix comes from his cosmetic and reconstructive surgery practice, where he uses ECM in procedures such as facelifts, ear reconstruction, scar minimizing, body procedures, and other surgical procedures.