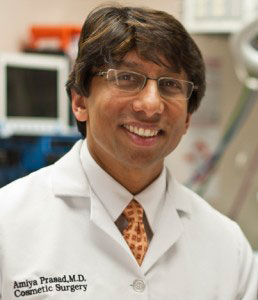 ---
Dr. Amiya Prasad, M.D., F.A.C.S., is a prominent multi-specialty, Board-certified cosmetic and reconstructive surgeon based in New York City. Distinguishing himself in the cosmetic field amongst an already select group of Oculofacial/ Oculoplastic surgeons in the world, he is highly regarded for his super-specialist work on the eyes and face, and has gained recognition for his innovation in hair restoration.
Dr. Prasad is a graduate of The Mount Sinai School of Medicine in New York City. He received his specialty training by top plastic surgeons associated with The University of Texas in Houston and Galveston, as well as The Baylor College of Medicine.
In practice for over 20 years, Dr. Prasad has always focused on "out of the box" approaches to help his patients. Seeing opportunities and taking time to develop innovative solutions has been the driving force behind his founding of TrichoStem Hair Regeneration Centers.
Dr. Prasad developed The TrichoStem® Hair Regeneration System, a method to treat hair loss derived from a stem cell-based wound healing technology to help both men and women suffering from hair thinning. His unique insight into the formulation and application of extracellular matrix (ECM) provided by ACell, Inc., has made The TrichoStem® Hair Regeneration System one of the most sought after hair loss treatments in the world to date.
For over 20 years Dr. Prasad's work has been highly regarded for his natural results and his skill in balancing artistry and an individualized design with minimal risk, maximal benefit, and quick recovery.
"The TrichoStem® Hair Regeneration System was derived from the objective of improving healing and survival of hair grafts, and restore the thickness of the actively thinning hair". We observed how much the hair transplant outcomes improved. With further investigation and analysis we observed how effective our treatment was for thinning hair without performing hair transplant. For the majority of patients we treat with thinning hair, The TrichoStem® Hair Regeneration System generates results which exceed the volume of coverage when compared to 1 or even 2 hair transplant surgeries"
See and Hear Dr. Prasad talk about TrichoStem® Hair Regeneration
"In the 20 years I've been involved in hair restoration, I developed the TrichoStem® Hair Regeneration system to bridge the gap between hair transplants and drug therapy. It's very important to understand that in general, hair transplant surgery is not a onetime procedure, but rather an ongoing series of expensive surgeries because of continued hair loss. Men who want to delay transplants are often frustrated by the limited effectiveness of drugs, the fear of potential side effects, and the "inconvenience" of the daily routine. TrichoStem® Hair Regeneration has made a significant impact – we've observed that one treatment  for male and female patients by thickening hairs, treating the thinning process, and delaying continued hair loss. Most of our patients are avoiding hair transplants because they are achieving natural hair density, and have reduced their ongoing hair loss for time frames ranging from 2 to 5 years. Our hair transplant patients are benefiting from better results, better graft survival, and helping the hair loss cycle to reduce the urgency for ongoing extensive hair transplant surgeries."
Dr. Amiya Prasad
---
In addition to being a hair restoration specialist, Dr. Prasad is also a Diplomate in Facial and Body Cosmetic Surgery by the American Board of Cosmetic Surgery. He is a fellow of the prestigious American Society of Oculofacial Plastic & Reconstructive Surgery, as well as the American Academy of Cosmetic Surgery. In addition to this, he has received board certification in Ocular Surgery.
Certifications
Member – International Society of Hair Restoration Surgery
Fellow of the American Society of Ophthalmic Plastic and
Reconstructive Surgery (Oculoplastic/Oculofacial Surgeon certifying body)
Fellow of the American Academy of Cosmetic Surgery
Fellow of the American College of Surgeons
Diplomate, Facial Cosmetic Surgery
Diplomate, Breast Body and Extremity Surgery
Diplomate, General Cosmetic Surgery
Dr. Prasad is the author of the book The Fine Art of Looking Younger, which is available on Amazon.
Dr. Prasad is the founder of TrichoStem® Hair Regeneration Centers first opening its doors in Vienna, Virginia, along with Dr. Prasad's existing practices of Prasad Cosmetic Surgery and Hair Restoration's two locations in New York City: Manhattan and Garden City, Long Island.