What Makes TrichoStem™ Hair Regeneration Different from Other Hair Loss Procedures
Limitation of Hair Transplants
Hair transplants do not stop hair loss. While transplanted hair taken from the permanent zone are genetically resistant to hair thinning, native hair on the scalp is still prone to hair thinning, and eventual loss, if untreated.
How TrichoStem™ Hair Regeneration Is Used For Hair Loss
TrichoStem™ Hair Regeneration appears to clinically reactivate hairs which are not actively growing and strengthen and extend the life of a hair growth cycle. Hair loss doesn't just happen when hair falls out.  Normally,  hair sheds, then grows back. Hair loss happens when hair sheds, then grows back thinner with every cycle. The TrichoStem™ Hair Regeneration treatment appears to induce thinning hair to shed, after which hair grows back thicker, effectively changing the genetically determined progression of hair loss. Individual treatment plans are customized based on gender, age of onset, degree of hair loss, rate of progression and other factors determined during consultation. Supplementary medication and other management strategies are also discussed.
Hair Transplants in Numbers:
Peak hair count before hair loss: Approximately 100,000 hairs
Amount of hair lost in early stages of hair loss: 50%, or about 50,000 hairs
Safe number of hair grafts taken from permanent donor area in transplant: 1500-3000
Hair Transplant Density:
Natural hair density before hair loss: 50-100 hairs per square centimeter
Hair density in a single hair transplant session – 20 hairs per square centimeter. Technically, this number can be exceeded, but blood supply cannot support more than 20 transplanted hairs per square centimeter, so hair grafts can die, and are lost forever if transplant density is exceeded.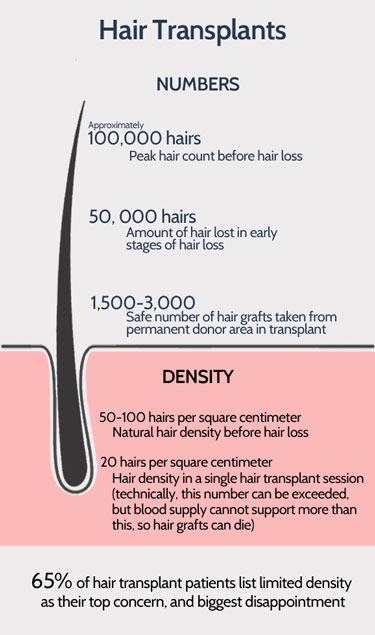 65% of hair transplant patients list limited density as their top concern, and biggest disappointment
Cost of Hair Transplant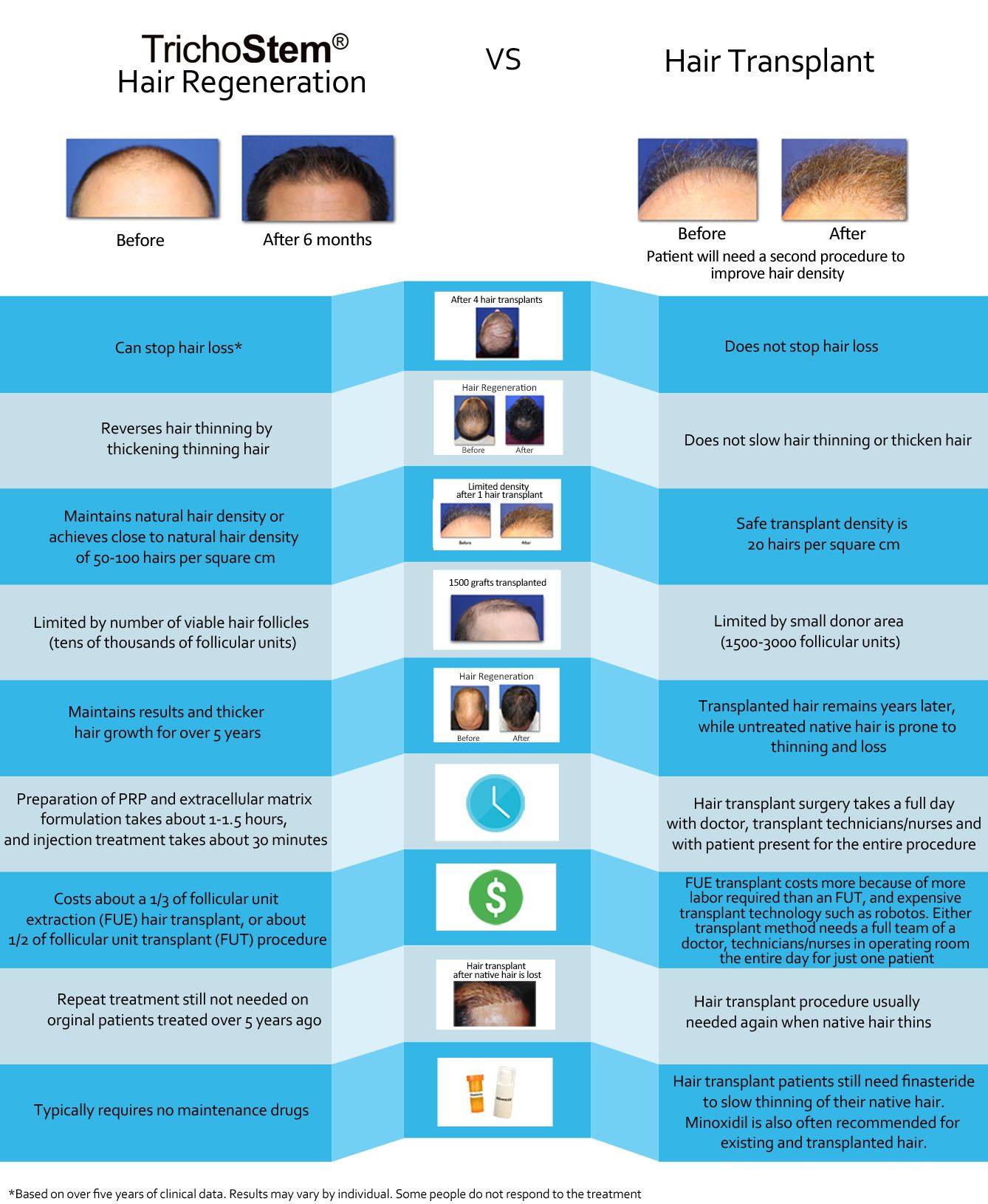 A hair transplant takes a doctor and a team of nurses and technicians an entire day to perform. Expensive robots may help in harvesting hair grafts, but placement still needs to be done by human hand. No matter which country a hair transplant surgery is done in, at least one doctor and an entire medical staff are dedicated to a single patient for an entire day will be costly.
Follicular unit transplantation (FUT) requires less man hours as technicians can harvest grafts without the patient present the entire time.
A follicular unit extraction transplant (FUE), even though it yields less grafts, is more labor-intensive as the patient is present with each graft harvested, so it is a more expensive hair transplant method.
Cost of TrichoStem™ Hair Regeneration
While the cost varies with extent of the treatment, at its full extent, TrichoStem™ Hair Regeneration costs about a third of a single follicular unit extraction (FUE) hair transplant session.
For the less labor and time intensive follicular unit transplant (FUT), TrichoStem™ Hair Regeneration costs about half of a single transplant session.
Value of TrichoStem™ Hair Regeneration
Most patients have achieved significant results with just one treatment, lasting 3 to 5 years. Many of the earlier patients treated over 5 years have sustained thicker hair growth past 5 years, and we have not seen any trend of regression of hair thinning.
Some patients with moderate to advanced hair loss may get a second treatment at 15 months, referred to as the booster injection, which is done at no extra cost. The deciding factor for a second treatment is if the first treatment saved dormant hair follicles, which resulted in fine hair growth – these fine hairs from new growth are thickened by the second treatment.
Patients' progress is monitored at the 1st month, 3rd month, then every 3 months until the 15 month point. After that, results are monitored periodically for 5 years. While it is a one-time treatment, our commitment to the treatment working for you is long-term.
Some people do not respond to the treatment in spite of combination of medical therapy such as finasteride and repeat injections of Hair Regeneration.
TrichoStem™ Hair Regeneration Versus Minoxidil and Finasteride
The two most commonly prescribed medications to treat hair loss are minoxidil (brand names Rogaine, Regaine, etc) and finasteride (brand name Propecia).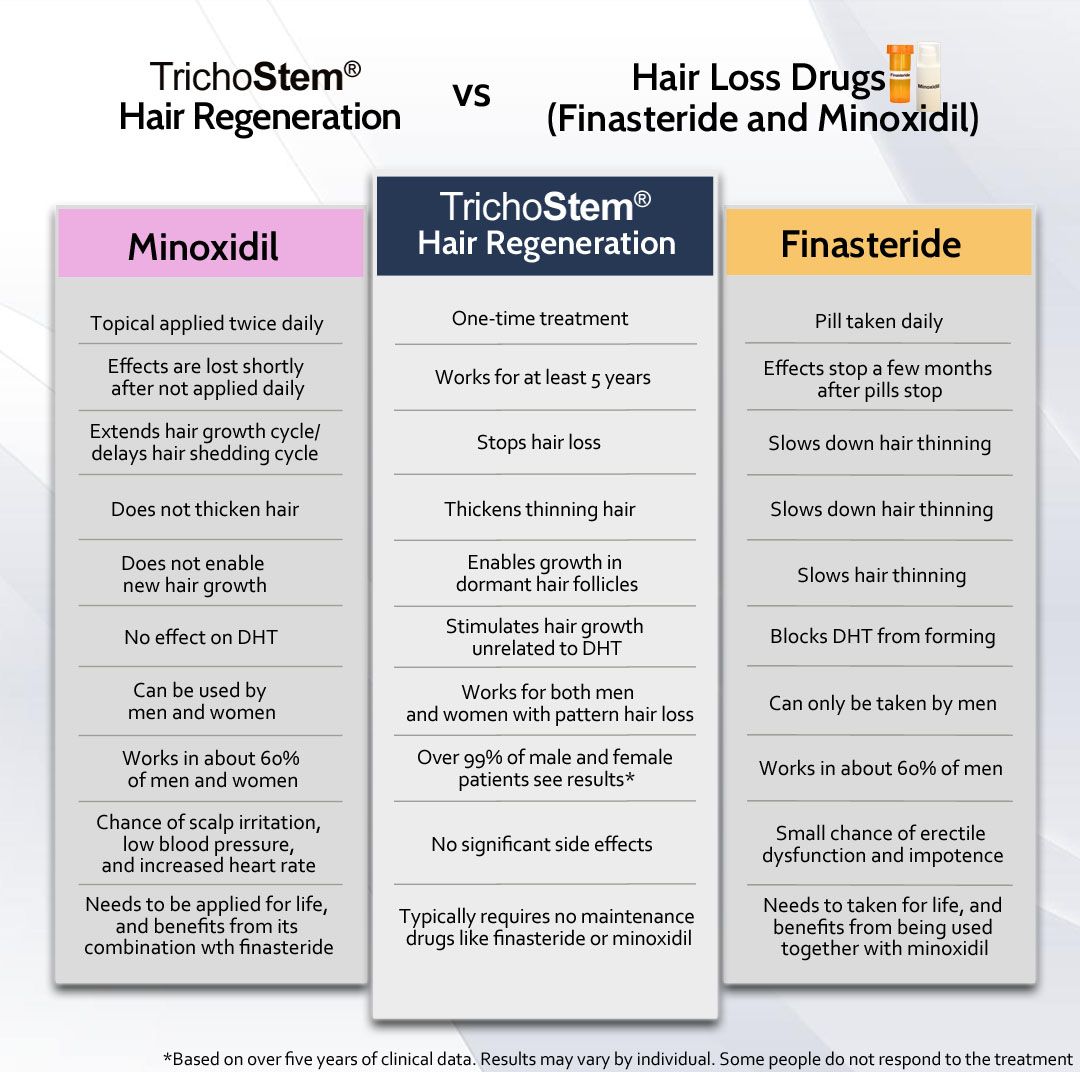 Effectiveness of Treatments
Minoxidil does not stop hair loss, nor does it thicken thinning hair. While the exact mechanism is not clearly known, minoxidil extends the active hair growth cycle, and delays the hair shedding cycle, so more hair is present on your head. If not used twice daily, these effects stop. Minoxidil is not effective on everyone, and does have mixed results.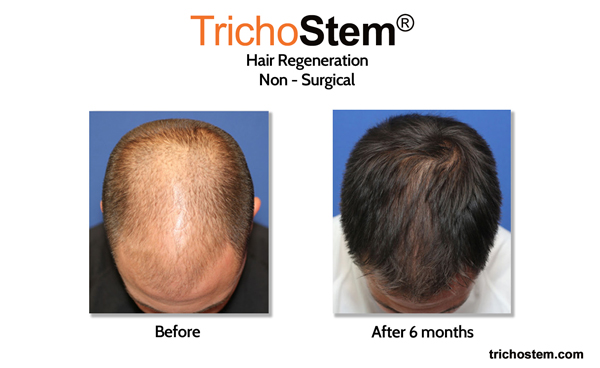 Finasteride is a 1mg pill taken daily. It blocks the enzyme 5-alpha reductase from converting the male hormone testosterone to dihydrotestosterone (DHT). People who have DHT-sensitive hair follicles are susceptible to hair thinning and hair loss. Finasteride slows down hair thinning and hair loss. Finasteride does not appear to stimulate hair growth factors. If finasteride is discontinued, the effects wear off after a few months, and hair returns to the rate of thinning  prior to treatment. Finasteride is used for men and rarely given to women.
Long-Term Results with Minimal Maintenance Drugs and Repeat Sessions
TrichoStem™ Hair Regeneration is done based on your  individual clinical presentation. It is effective in over 99% of male and female hair loss patients in stimulating hair growth and prolonging the life span of the hair growth cycle. Effects have so far lasted over 5 years in the majority of the first group of patients who received only one treatment, with no evidence trends of regression. This does not mean that every patient responds in the same way. In particular, early age of onset with rapid rate of progression as well as having advanced hair loss makes treatment more challenging and the the outlook more limited.
Unlike other PRP and extracellular matrix by ACell treatments, TrichoStem™ Hair Regeneration is performed based on extensive clinical experience allowing for customized treatment plans. Injections are generally performed for moderate to advanced hair loss patients at  one time and again at 15-18 months. Plans range from 2 to 5 years based on our clinical data and injections as well as other supportive strategies such as the use of finasteride are also considered.  Many other medical practices offer PRP alone or with extracellular matrix by ACell treatments on a monthly to trimonthly basis with no clear understanding of expected outcome and longevity of effect.
TrichoStem™ Hair Regeneration patients using minoxidil and/or finasteride prior to the injection may continue depending on their individual clinical profile reviewed with Dr. Prasad.
Many patients who using finasteride or minoxidil prior to having TrichoStem™ Hair Regeneration injections have seen significant benefit after.  The objective is to maximize scalp coverage with stimulation of hair growth and maintaining the hair growth cycle for as long as possible.  99% of male and female pattern hair loss patients have seen benefit with TrichoStem™ Hair Regeneration.
TrichoStem™ Hair Regeneration Versus PRP Injections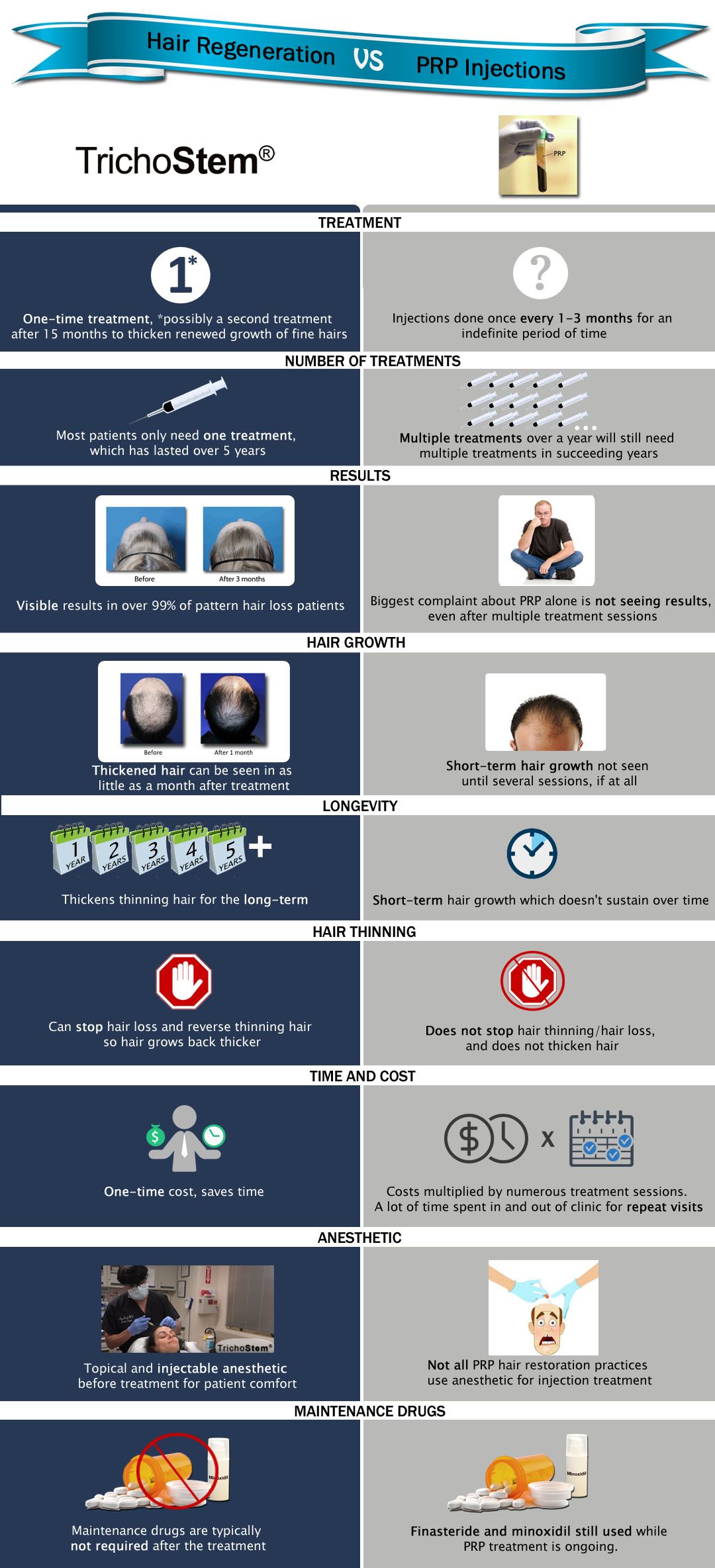 PRP Alone is Limited
Platelet-rich plasma (PRP) injections for hair loss are becoming more common throughout the world. While PRP is proven to stimulate hair growth, this hair growth is usually short-term, and does fade after the injection therapy stop.
TrichoStem™ Hair Regeneration alone has generally resulted in longer lasting benefit with limited injection  sessions.
Frequent, Ongoing Injections of PRP Alone
PRP hair loss injection sessions are usually spaced 4-8 weeks apart for a varying number of sessions. Often, other practices only state treatment packages for several months, and within a one year timeframe. This leads to many people believing the treatment is only needed for a set number of sessions, and for a limited time. However, it is not clearly stated that PRP hair loss injections are actually an ongoing, indefinite treatment. This is not necessarily the fault of doctors as many are offering PRP injections to help their patients, but don't actually know how long the treatment is needed because they haven't performed it long enough to know.
TrichoStem™ Hair Regeneration with a Single Injection Can Last for Years
As the pioneer of the using PRP and extracellular matrix by ACell, TrichoStem™ Hair Regeneration has been proven, with real patients and real results, with reactivation of hair and thickening of  thinning hair.  Many of the early group of patients who underwent TrichoStem™ Hair Regeneration in 2011 have maintained thicker hair growth with just one treatment session. The Founder of TrichoStem™ Hair Regeneration, Dr. Amiya Prasad, frequently states the treatment can last for years however individual clinical profiles where more aggressive and advanced hair loss often need combination therapy and more frequent treatments.
TrichoStem™ Hair Regeneration Versus other PRP+ACell Treatments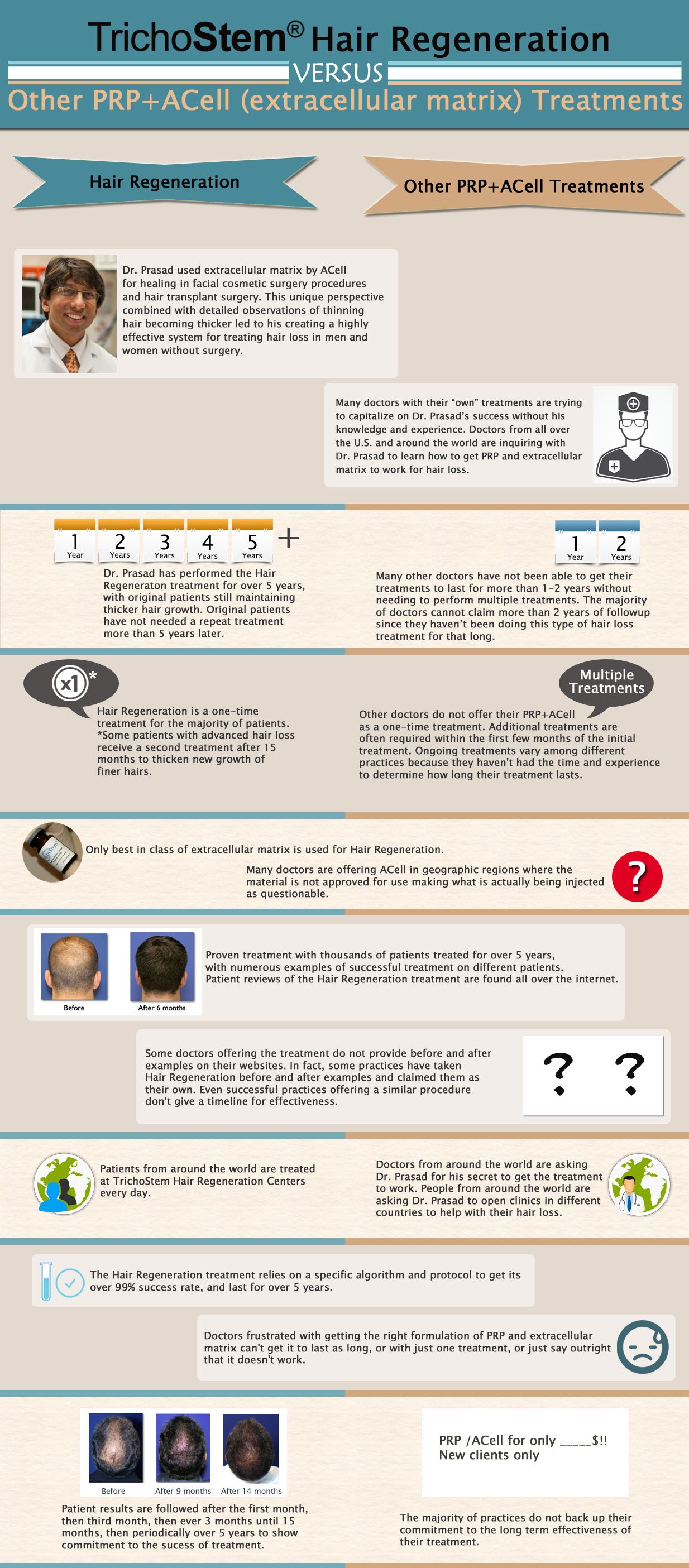 Early Proponent of Extracellular Matrix by ACell and Platelet-Rich Plasma (PRP)
As a cosmetic surgeon and early proponent of regenerative medicine, Dr. Amiya Prasad has long been using extracellular matrix for incision healing in cosmetic surgery such as facelifts. He has used PRP as a standalone injection treatment for healing and skin quality improvement for issues like dark circles under the eyes. He was also using PRP in combination with hyaluronic acid filler as a longtime member of the Vampire Facelift Network of doctors.
Inventor and Pioneer of Combining PRP and Extracellular Matrix by ACell for Hair Loss
When performing hair transplants, Dr. Prasad applied his experience with extracellular matrix by ACell and platelet-rich plasma to help the incision of the donor area of follicular unit transplantation (FUT), and to heal transplanted hair grafts for a higher survival rate.
In follow up appointments with hair transplant patients, Dr. Prasad noticed in some patients that native hair close to the hair grafts he was trying to heal with the formulation became thicker. It was then that Dr. Prasad decided to develop a standalone treatment to thicken thinning hair so hair restoration patients could avoid transplants altogether.
Dr. Prasad refined the formulation, and created an algorithm and protocol that included factors like age, rate of hair loss progression, and gender so the treatment can be customized to the needs of individual hair loss sufferers. In 2011, Hair Regeneration became the very first PRP+ extracellular matrix by ACell standalone hair loss treatment, with his first patients treated in his Manhattan and Garden City, Long Island locations.
Getting PRP + ACell to Work is Not a Matter of Combining Ingredients
Extracellular matrix by ACell is not an easy material to use. It is not a matter of just mixing PRP and extracellular matrix, and you instantly have a solution to stop hair loss and reverse hair thinning. Many medical practices around the US have assumed this is the case, resulting in many disappointed patients that show minimal to no change in their hair thickness months after the procedure. Many other hair restoration practices have claimed PRP+ extracellular matrix by ACell doesn't work because they themselves couldn't get their own formulation to work. The key is not just combining the ingredients, but getting the two separate ingredients to work together as effectively as possible. Dr. Prasad and his team have worked continuously over 7 years to develop customized protocols using different formulations and injection delivery methods.
Effectiveness of TrichoStem™ Hair Regeneration Compared to other PRP and ACell Treatments
When you look up PRP+ACell treatments that are not TrichoStem™ Hair Regeneration and Hair Regeneration by Dr. Amiya Prasad, you will notice that other medical practices have very few before and after examples. It can be said that Dr. Prasad has practiced using PRP and extracellular matrix by ACell with more patients and longer than anyone else.  With an estimated 99% success rate in male and female pattern hair loss patients, in terms of improvement in scalp coverage and hair quality, this approach has been working well . As is seen on this site, as well as Dr. Prasad's other sites there are numerous examples of patients, both men and women, showing significant hair growth.
In over 5 years of performing the Hair Regeneration treatment,  there are a few hair loss patients who didn't respond to treatment. Continual refinement of the process as well as selection of appropriate candidates is ongoing to maximize probability of success.
Years of Effectiveness of TrichoStem™ Hair Regeneration Versus Other PRP+ACell Treatments
Dr. Prasad develops customized treatment plans for every patient based on his experience. The treatment plans are based on specific data including age of onset, rate of hair loss progression and degree of hair loss. Dr. Prasad developed his system by monitoring patients for more than 5 years. Providing patients with data backed information for prognosis and treatment strategy is critical for maximal success.
Most other ACell PRP hair treatments do not offer this approach . Rather, a "shotgun" approach is taken where a patient pays for every session and comes in monthly to every 3 months with no plan beyond each session other than another treatment. While these treatments may cost less in the short-term, in the long-term TrichoStem Hair Regeneration system is very good value. Hair loss cannot be cured but can be managed to maximize scalp coverage for as long as possible. Dr. Prasad monitors his patients every 3 to 6 months and takes consistent photos to look critically at results without additional cost.
Frequency of Treatment of TrichoStem™ Hair Regeneration Versus Other PRP+ACell Treatments
The Hair Regeneration treatment can be a one-time treatment for  many patients, but the service doesn't end there. As part of the commitment to manage hair loss, patients are monitored 1 month after treatment, then at 3 months, then every 3 months after that until the 15 to 18 month point. At this time, patients who have new, finer hair growth are provided a second treatment at no extra cost.
Most other PRP+ACell hair regrowth treatments do multiple treatment sessions a year.  Lack of experience and a shared  single dose formulation the basis for this approach. Hair loss cannot be treated as a one size fits all approach. Frustration from this approach has led many people to consult Dr Prasad for a more experienced opinion.
Maintenance Drugs with TrichoStem™ Hair Regeneration
TrichoStem™ Hair Regeneration patients can continue using hair loss drugs such as minoxidil after their treatment. Dr. Prasad does prescribe finasteride in some male patients to maintain best results of the Hair Regeneration treatment.
Other Doctors and TrichoStem™ Hair Regeneration
Doctors from the US and around the world regularly ask Dr. Prasad to teach them the Hair Regeneration method, or to disclose how it works. Some of them are already practicing PRP alone as a hair loss treatment, or are having frustration getting their PRP+ACell treatment to work. No other doctor has replicated the results in terms of thickness, density, or the longevity of TrichoStem™ Hair Regeneration. In fact, on several occasions, other doctors have been caught using TrichoStem™ Hair Regeneration before and after pictures of Dr. Prasad's patients, and claiming them as their own work!
Patients Come from All Over the World for TrichoStem™ Hair Regeneration
Practically everyday, Dr. Prasad performs the Hair Regeneration treatment for patients who live outside the US and the tristate area. Patients from every continent have come to Manhattan, Long Island, and Virginia just for the Hair Regeneration treatment. Other medical practices offering PRP+ACell for hair loss cannot claim they have the volume international patients flying in to have their hair loss treatment.
Save Your Hair Before It's Too Late
Dr. Prasad does say that the earlier you have the Hair Regeneration treatment, the better it works because you have more viable hair follicles to save, and more thinning hair to thicken. Call us today at Manhattan, New York City at (212) 265-8877, Garden City, Long Island at (516) 742-4636, or Vienna, Virginia at (703) 356-1446. You can also fill out the contact form below, and we will get back to you. If you would like us to review pictures of your hair loss situation, you can send them here for a free preliminary review. Patients financing options available for qualified candidates.