70 year old man injected with the new Hair Regeneration formula 3 months earlier
Note 2 things:
1) New terminal hairs sprouting all over the injected thinning area
2) The new hairs are the original dark color–NONE are gray
ACell + PRP Injection Results
ACell Patient Before & After Examples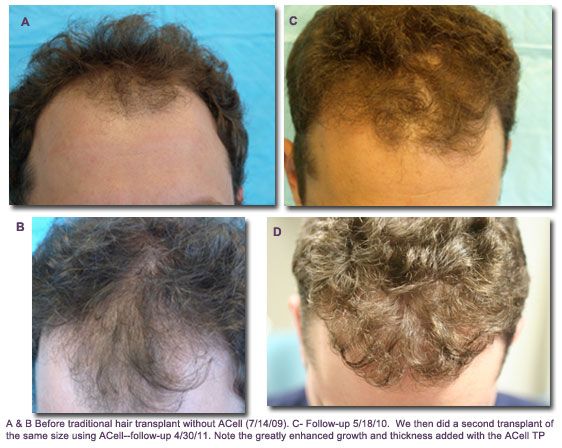 ---
26-year-old male experiencing frontal and occipital hair loss. Patient elected to undergo ACell with saline injections (Prior to use of ACell with Platelet-Rich Plasma (PRP)) and postpone hair transplantation.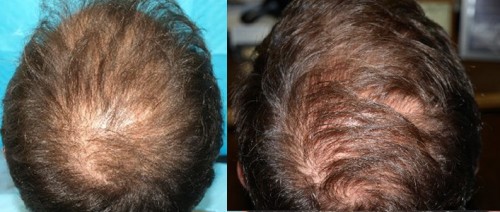 Follow up at 16 months. Patient will continue to be monitored. (No future treatments scheduled currently)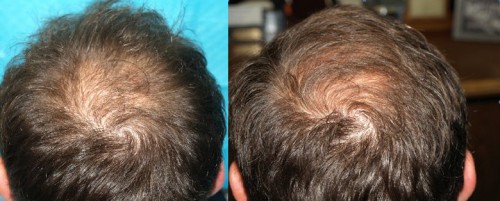 ---
Patient Age: 29-years-old
Treatment: Acell + PRP
Condition: Progressive genetic hair loss. Patient did not want hair transplant surgery or oral treatment with Propecia.
Recommendation: Trial injections with Acell plus PRP treatments
Expectation: To possibly halt hair loss and evaluate in 6 months for future treatment or surgery.
Current evaluation: No further treatment until 1 year follow up.
Photos: (L) Before 7/13/10 & After (R) 1/18/11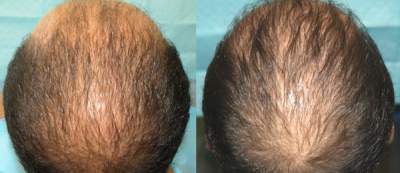 ---
Patient Age: 52
Treatment: Acell PRP Hair Loss Treatments
Condition: Class VI genetic hair loss pattern. Patient had previous hair transplant surgery with poor growth
Recommendation: Trial injections with Acell plus Arterial Platelet Rich Plasma (APRP)
Expectation: To possibly halt additional hair loss and thicken existing hair transplants
Current Evaluation: At 1 Year follow-up there is additional hair regrowth from the surrounding hair and from previous hair transplants. No apparent ongoing hair loss.
Photos: Before (L) 1/16/10, After (R) 1/15/11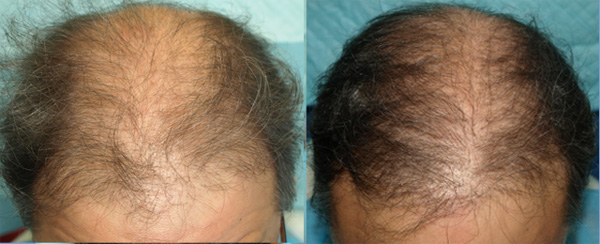 ---
What is ACell ECM?
ACell's patented Extracellular Matrix (ECM) products are covered by multiple 510(k) clearances and address important unmet clinical needs, providing safe, effective and therapeutic outcomes. Derived from porcine urinary bladders and referred to as UBM (urinary bladder matrix), trademarked as MatriStem™, ACell's core technology is a naturally occurring, non-crosslinked, completely resorbable acellular biomaterial. A similar "first generation" ECM technology has been used to treat over 500,000 patients with remarkable effect. ACell's MatriStem products are the next generation of ECM technology due to its unique characteristics featuring a basement membrane surface which is ideal for epithelial cell growth in many applications.
ACell's technology is not limited to one market segment (e.g., wound healing/care), but instead can serve as a core technology for treatments across a broad range of human medical conditions. For more information go to: www.acell.com
See the latest TrichoStem Hair Regeneration Case Studies